I almost thought it wouldn't get made, but here it is.



title:

Helical Ridge
size:

28" x "20.
Inspiration

: dictionary definitions.
designed and quilted by

: Colleen Yarnell
Pieced and quilted with:

aurifil thread

50wt, white, light gray and dark gray.
I started by searching the definition of thread. The words
thread, strand, and helical ridge
circled in my mind.
thread
noun
1.

a long, thin strand of cotton, nylon, or other fibers used in sewing or weaving.

2.

a thing resembling a thread in length or thinness, in particular.
Then Sunday night I was drawing in bed in one of my graph design notebooks. Don't we all keep one under our pillow? Then I picked charm squares and scraps from my Denyse Schmidt stash.
Unfortunately due to issues with my now waiting-for-service Babylock Sofia I didn't sew all week. Finally Friday I got out the Viking Sapphire and started sewing. Yes another rainbow Denyse Schmidt themed quilt. The background came from a bag full of low volume scraps. (I love getting scraps from friends!)
Then after digging out my Singer Featherweight for the BOM at Trailer Stash Fabrics, I continued sewing Saturday afternoon until I finally finished at about midnight. BTW since before Christmas Ive been sewing in my den on an ottoman. My sewing room has become a bit of a dumping ground. Plus its warmer downstairs. I'm sure this has never happened to anyone we else.
I watched two old scifi movie classics along the way-Dune and The Fifth Element.
Piecing with white Aurifil.
I was excited when I had the top done! And it looked good!
Better than I thought it would! You know how when your piecing and your
wondering if its going to look like crap? or come out they way you envisioned it?
I quilted it on the Viking Sapphire. Free motion quilting the word Thread in the empty space with dark gray Aurifil. I also used light gray to FMQ synonyms for thread down the middle. I was missing my Babylock Sofia and her walking foot when it came to the straight line sewing. I need to save up for a Viking walking foot!
I used my three favorite Aurifil threads. I also like my Aurifil yellow but didnt use it on this quilt.
Check out all the other quilts and vote for your favorites here.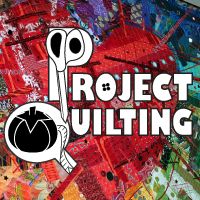 Keep dreaming...Colleen
Sofia and I cuddling Saturday morning.